Bangladesh's 'Amazon'
Sometimes if I'm lucky I get to travel to Bhola by a pretty unusual mode of transport:  seaplane, a Cessna Caravan to be precise.  The service is running by Mission Aviation Fellowship, itself an NGO, providing aviation services for NGOs such as Co-operation in Development.  This is literally the only way to 'fly' to Bhola Island which has no landing strip let alone airport.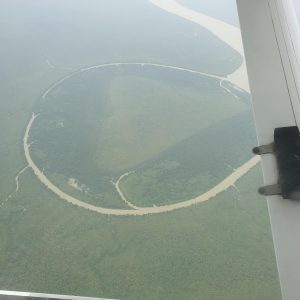 This monsoon I was lucky enough to get a trip back to Dhaka via Munshiganj, which is on the edge of Bangladesh's famous Sundarban forests–actually ultra dense, super-wet mangrove forests floating between rivers in the delta formed by the confluence of Ganges, Brahmaputra and Meghna Rivers in the Bay of Bengal.
The Sundarbans spread into India, but mostly are Bangladesh territory.  The government has sealed off the area except for tourist purposes, which considering the pressure on land in this country is pretty amazing.  The piloted handed me his ipad for most of the journey so I could map our flight path through this amazing territory.  While visibility wasn't great, due to the incredible humidity (even my passport got pretty well ruined), I could see some really peculiar river movements, like this 'circular river' which may or may not be famous.   

This area has two things which we DON'T have in Bhola, thankfully.  Tigers.  And crocodiles.  Apparently the crocodiles are strictly saltwater, so they don't like our sweetwater island…and the tigers…well they haven't swum across the Tetulia yet.  As I say, thankfully…

Olav Muurlink